Predictable, first time tool
recovery, every time.
Pentagon Technologies' QIII Line of Surface Particle Detection (SPD) instrumentation is the industry standard for measuring and controlling surface particle contamination – and it just got better. The new QIII Max SPD includes our newest technology with many enhancements for use in today's critical clean environments.
In industries where high technology products are manufactured in controlled environments, surface particles can migrate to the product or process and result in yield loss or the inability to run processes.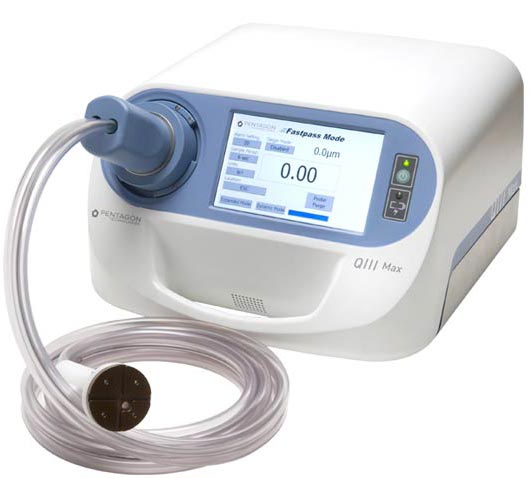 Predictable, first time tool recovery, every time.
Reduce recovery time by 25-50%
Reduce particle adders by 50%+
Reduce seasoning and test wafers
Reduce pump-purge cycles
Increase MTBC by 4x or more
Increase tool availability by 10%+
Reduce PM cycle time
Reduce troubleshooting events
ISO-14644-9 surface particle compliance
The New QIII Max SPD Includes
New Static sampling mode for improved measurement accuracy
New 7" high resolution WVGA screen for clear, crisp images and text
New probe multi-connector for ease in attaching and swapping one of the variety of probes offered
Two user replaceable batteries that can be "hot swapped" without shutting the unit down resulting in unlimited run time in battery mode
Data collected can now be easily downloaded through the USB port
Software upgrades can be uploaded directly by the end-user through the USB port
There are now 6 channels of particle data for enhanced visibility to particle distribution
Additional Descriptions: Surface Particle Counter, or Surface Particle Sniffer